WHY SOLICOR-CR?
Solicor-CR is a color-through, lab-grade worksurface solution perfectly suited for both vertical and horizontal applications in environments where chemical resistance, durability and aesthetics are top priorities. This includes laboratories at the K-12 and university education levels, research & development facilities for the government, medical and pharmaceutical industries, and other segments such as healthcare, hospitality and retail.
The innovative Solicor-CR was developed in conjunction with Durcon parent company Wilsonart to give designers and builders what they have long asked for - a lightweight, easy to fabricate, chemical resistant worksurface that is the same color the entire way through.
That's right - no more black core! Solicor-CR opens up a new world of possibilities for lab design by providing a modern alternative for almost every surface in a workspace.
Horizontal - Worktops, desks, reception, mobile stations, food prep and more.
Vertical - Shelving, partitions, cabinetry, elevators, stairwells and more.
Best of all, the debut colors for Solicor-CR were created to specifically color-match two of the most popular options for Durcon Epoxy Resin - Graphite & Gray.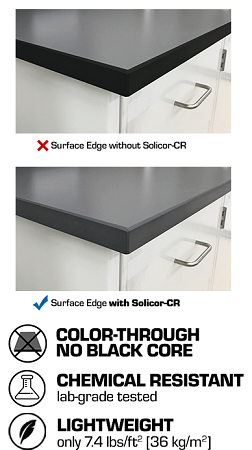 Performance Characteristics & Benefits​​
- Color-through
- Color-matches Durcon Epoxy, Greenstone & SPC (click to view color options)
- Lab-ready
- Lightweight
- Moisture resistance
- 'Class A' rated for fire & heat
- Ease of install
- Impact & scratch resistance
- Made in USA
- Cost-effective
Solicor-CR Resources Downloads
- Testing Results Brochure (Chemical, Physical, Fire)
Solicor-CR Thickness Availability
| U.S. Domestic Measurement | International Metric Measurement | Thickness Tolerance | lbs/ft2 | kg/m2 |
| --- | --- | --- | --- | --- |
| 1" | 25mm | ± 0.050" | 7.24 | 35.35 |
| .75" | 19mm | ± 0.037" | 5.40 | 26.37 |
| .50" | 13mm | ± 0.025" | 3.62 | 17.67 |
| .375" | 10mm | ± 0.0125" | 1.81 | 8.84 |
Solicor-CR Edge Availability
Solicor-CR is available with the following edge finishes: