Three Grades of SPC
Chemical Resistant Solid Phenolic Compact (SPC) by Durcon is one of the most durable decorative surface materials of its type. SPC is composed of multiple layers of kraft paper saturated with phenolic resin and impregnated overlays are Electron Beam Cured (EBC) and fused together using heat and pressure of over 1,000 psi. The curing process transforms the resin into plastic by a cross-linking process that converts the paper sheets into a solid, self-supporting structure. Our EBC process provides the highest levels of scratch resistance and the thermoset irreversible bonds further contribute to SPC's durability.
Solid Phenolic Compact is a functional and decorative worksurface solution for high impact, heavy use environments such as laboratories and other facilities in the education, healthcare and R&D segments. Engineered to horizontal and vertical applications like countertops, shelving and partitions, these durable self-supporting surfaces are available in three grades.
For specific test results follow the links below:
Solid Phenolic Compact by Durcon is also available in Standard Grade and Fire Rated varieties.
Standard Grade SPC is the multi-purpose surfacing solution made for general applications such as shelving, technical stations, light-duty worksurfaces and wall cladding.
Fire Rated SPC is thick Standard Grade SPC with fire retardant properties that are suitable for applications where fire rated properties are required by building codes.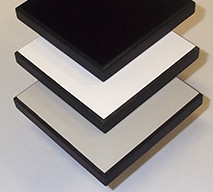 SPC Thickness Availability
| U.S. Domestic Measurement | International Metric Measurement | Thickness Tolerance | lbs/ft2 | kg/m2 |
| --- | --- | --- | --- | --- |
| 1" | 25mm | ± 0.050" | 7.24 | 35.35 |
| .75" | 19mm | ?± 0.037"? | 5.40 | 26.37 |
| .50" | 13mm | ?± 0.025"? | 3.62 | 17.67 |
| .25" | 6mm | ?± 0.0125"? | 1.81 | 8.84 |
SPC Edge Availability
Solid Phenolic Compact is available with the following edge finishes:
1/8" Bevel
1/4" Radius
Straight Edge
All SPC by Durcon is manufactured in the USA, UL Environment Certified (Greenguard Gold) and qualifies for LEED 2009 credits for Commercial Interiors in sections MR 4.5, 5, 6 and 7.